Whatever happened to fair dealing?
And pure ethics
And nice manners?
Why is it everyone now so a pain in the ass?
Whatever happened to class?
An egotistical, self-absorbed narcissist literally gets away with murder, thanks to a slick defense lawyer who's in it for the money, a supportive media willing to print sensational lies, and a sympathetic jury unwilling to convict. No, this isn't about the Trump Impeachment trial. This is a story "ripped from the headlines" of  1920's  Chicago and turned into a Tony Award-winning musical. Annie and I were fortunate to see an adaptation of the musical put on by The Stage in San Jose.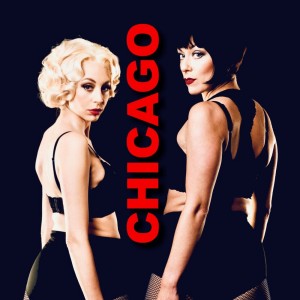 Annie and I love musicals. Besides watching Mamma Mia! last year (also at The Stage), we got to see the San Francisco production of Hamilton – I thoroughly enjoyed it – as well as The Book of Mormon at the San Jose Center for the Performing Arts. Those big productions in the big theaters are great, but I do like more intimate theaters like The Stage where the audience is closer to the action. So when we were given the opportunity to see "CHICAGO", we jumped at the chance.
The show features Bay Area theatre stalwarts Monique Hafen Adams in the role of Roxy Hart, Allison F. Rich as Velma Kelly, and Keith Pinto as Billy Flynn. Allison Rich stole the show as Tanya in The Stage's Mamma Mia! production last year, so I was looking forward to seeing her perform again. She did not disappoint, as she sang in many of the show's big tunes but my favorite song featuring Rich was "Cell Block Tango".
Two surprises for me were the performances of accomplished singers Branden Noel Thomas as Matron "Mama" Morton and Kyle Bielfield as Mary Sunshine. Having seen the 2002 movie "Chicago" starring Renee Zellweger, Catherine Zeta-Jones, and Richard Gere, with Queen Latifah as "Mama" Morton and Christine Baransky as Mary Sunshine, I was not expecting men in drag and I was certainly not expecting Brandon and Kyle's jaw-dropping performances.
On a small stage with fewer actors, choreographing dance numbers can be difficult. I really appreciated the bigger dance numbers, particularly "Cell Block Tango", "All I Care About", and especially "We Both Reached for the Gun". It's nearly impossible to achieve the same quality as the movie version of "We Both Reached for the Gun", though.
Even with all these great musical numbers, the song I came away from the show whistling was "Mister Cellophane" sung by Roxy's husband Amos (portrayed by Sean Doughy). I guess that, despite all the over-the-top antics of Roxy, Velma, and Billy to escape justice, I felt most sympathy for Amos. He only wanted to do what was right for his wife but like Congressman Adam Schiff trying to get President Trump impeached, he could not overcome the juggernaut of slick lawyers, fake news, cowardly jurors, and all that jazz.
CHICAGO
Playing now through March 15, 2020 at The Stage, San Jose . Tickets are $32-60, available at https://www.thestage.org/season/chicago
Disclaimer: Annie and I received complimentary tickets to a matinee showing of CHICAGO. The views and opinions expressed in this blog post are my own.